Dr Matilda Klein (Chiropractor)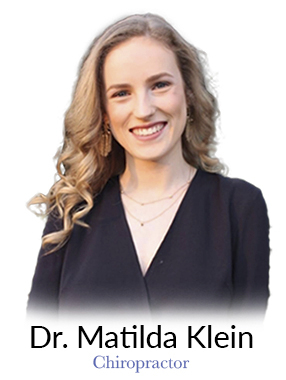 Growing up in Adelaide and being part of a large family, Dr Matilda always had a busy lifestyle, participating in multiple sports and performing arts. "After experiencing the benefits of chiropractic care for both myself and the rest of the family, this sparked my interest to learn more about the human body and how it functions–whilst pursuing my passion for helping others."
Chiropractic Education & Areas of Interest
Dr Matilda earned a Bachelor of Science/Bachelor of Clinical Chiropractic from Murdoch University. She has a strong interest in extending her knowledge about paediatrics, pregnancy, and women's health.
A Passion for Helping Others
For Dr Matilda, one of the most fulfilling aspects of chiropractic is that it enables her to create connections with people from all walks of life and diverse backgrounds, whilst educating them about their bodies and helping them return to better health. Dr Matilda also finds it rewarding to resolve their pain and discomfort, help them function at their best, and achieve their goals.
Outside of the Practice
In her spare time, Dr Matilda enjoys spending quality time with her family and walking the family Labradoodle down the beach or along the river. She also loves catching up with friends for coffee and exploring new places to eat, whilst moving her body and keeping active.
WANT TO LEARN MORE?
Dr Matilda can't wait to welcome you to our practice. If you'd like to learn more about her, or schedule an appointment, please do so today.

Dr Victoria Young | (08) 9259 1114