Dr Victoria Young (Chiropractor)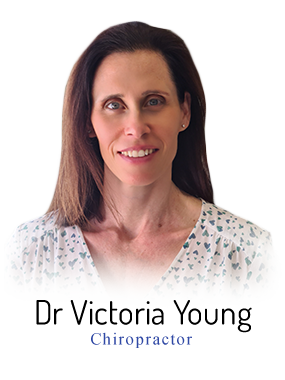 For 17 years, Dr Victoria owned Shelley Chiropractic and recently joined Tassell Chiropractic to focus less on business and more on patient care.
Pursuing the Chiropractic Path
I found the chiropractic profession by chance. After completing my undergraduate degree and whilst teaching primary school at a Montessori school, my mother had her first chiropractic adjustment. Her amazing results prompted me to discover more about the field and subsequently decide to study it and make it my profession.
Dr Victoria earned a Bachelor of Physical and Health Education from the University of Toronto and a teaching degree from the Montessori Institute in the USA. In 2002, she earned a Doctor of Chiropractic from the Canadian Memorial Chiropractic College in Toronto.
To date, she's taken the following continuing education courses:
Dry Needling Advanced Proficiency
Sacro-Occipital Technique
Activator Methods
Forging Meaningful Connections
Dr Victoria finds it rewarding to get to know each patient. "I feel that all the lifestyle factors are so important to fully understand how to care for them. Having worked and lived locally for the last 20 years, it has been such a privilege to be part of births, marriages, graduations, and all the other significant milestones that life brings to my patients."
She adds that there is a lot of laughter, talking, and the occasional shared tear that will occur when patients see her for care.
Providing Customised Care
As she recognises that every patient is different, Dr Victoria ensures no two adjustments or plans are the same. She likes to offer low-force techniques and employ traditional chiropractic adjustments when needed to tailor the adjustment for the patient.
Enjoying an Active Family Life
Since she was 16, Dr Victoria has been a recreational runner. She loves all the distances, from a short 5km to a gruelling ultra marathon. To keep her body injury-free, Dr Victoria throws in a bit of strength training, swimming and cycling.
Dr Victoria also enjoys spending time with her three teenage children, who make her laugh every day! "I still have a lot of family back in Canada, so I have to make it back to the Great White North periodically to top up my accent."
WANT TO LEARN MORE?
Dr Victoria can't wait to welcome you to our practice. If you'd like to learn more about her, or schedule an appointment, please do so today.

Dr Victoria Young | (08) 9259 1114